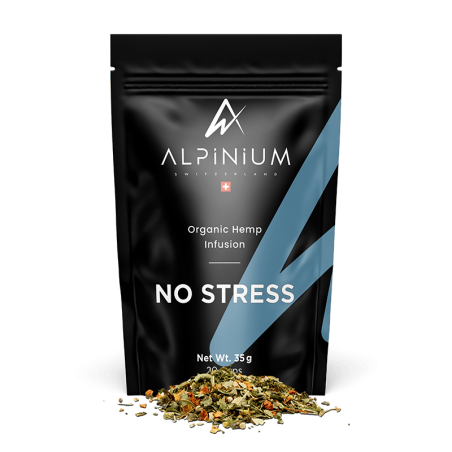  
Organic Hemp Infusion - NO STRESS
An organic herbal tea made from 25% hemp with aromatic herbs, including lemon balm, verbena and peppermint. A few pieces of apple add a touch of sweetness to this unique tasting infusion. For a moment of relaxation. To be enjoyed without moderation.
Ingredients

+

Hemp (25%), lime blossom, apple, lemon balm, nettle, verbena, fennel, mint, camomile, peppermint.

From organic farming.

Consumption

+

Consuming Alpinium's organic No Stress herbal tea is a way to purify your body, relax and awaken your taste buds. Regular consumption of Alpinium's CBD herbal tea does not cause any risk of overdosing.

Infuse 1 - 2 teaspoons in 25cl of simmering water at 90° for 7 minutes. Add milk, cream or fat for a better extraction and assimilation of the cannabinoids..

Storage

+

Keep away from light and heat. Close the package tightly after opening. Best before: 30 months after production date.
Alpinium's certified organic herbal teas are made from hemp leaves, aromatic plants, flowers and fruits. Each herbal tea has its own special and tasty characteristics to meet your daily needs. Make your choice according to the time of the day or the effect you are looking for through the selection.
Discover the various wellness products in the Alpinium range.
No customer reviews for the moment.
Customers who bought this product also bought: